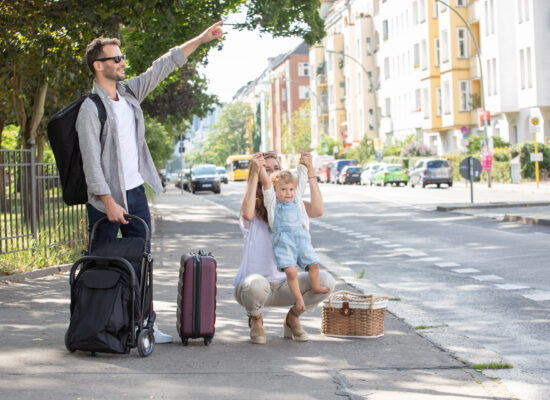 Urban Kanga portable car seats offer the perfect solution for parents and travelers with children who use multiple vehicles, car sharing, carpooling, taxis or like to travel with their children. Until now, you have had to carry a heavy car safety seat with complicated installation processes when traveling with children. In many cases, you may have either have given up travel plans or put your child at risk by offering no child restraint system at all.
A portable travel car seat that reduces space and makes it easy to carry along with you wherever you go
Urban Kanga is all about meeting the needs of the modern urban family. As car ownership declines in favor of car sharing models, young parents are in need of portable safety solutions for traveling with children. Michael
Comfortable, lightweight, portable and so easy to install.
Purchased this car seat so that my 2 year old boy could ride in the front of my car instead of just my wife's. I wanted something portable and easy to instal and remove so day to day I can put it away. This product is superb, so unbelievably easy to instal - I just followed the video on the product info page and it was done in a couple of minutes. Fits so nicely and is really soft, my boy absolutely loves it! Highly recommended for loads of different uses even for something semi permanent as it's clearly also really safe. Great product and value for money. Collesey
Amazing!
This product is amazing! It arrived today and I am very impressed. We were going to hire a car seat whilst on holiday but the cost of hiring one for the 10 days was working out to be expensive. We paid only £20 more to get our own carry around car seat. It is easy to use and light! It is such a big weight off our shoulders to have this. And it is something we can use for jumping in Ubers in London which we haven't been able to do so far. This car seat takes the limits of travelling. I am very happy with my purchase! Elizabeth
Kids car seat
Brilliant to move between cars. Easy to install. Size ok for aircraft hand luggage. Ed
Exactly as described, better than expected. No more rental car seats for us!
It really does do what it says on the tin. I couldn't believe it when we found this as an alternative to installing a car seat at the rental car company. In our experience, trying to fit a hired car seat - one of which stank of puke - used to be one of the worst things about going on holiday. Now, we just pack this and it's done in 30 seconds. Very happy customer. Highly recommended.
Urban Kanga portable car seats gives you the freedom to go wherever you want whenever you want while maintaining important safety requirements for your child. This is what we call "inspired by freedom". Whether traveling by car sharing or taxi, traveling to foreign cities, leaving your child with grandma & grandpa or even if you are just tired of having your back seat eliminated by bulky and heavy car seats, Urban Kanga is the perfect solution for you.
Select your model for more info